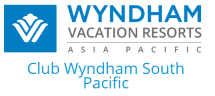 Club Wyndham, formerly known as WorldMark South Pacific Club by Wyndham is one of the leading providers of Holiday Ownership in the South Pacific. Club Wyndham members have access to over 50 Wyndham Club Resorts and over 4,500 resorts worldwide, through the exchange network.
Club Wyndham provides its Members with an attractive mix of drive-to, national/international attractions and exotic holiday destinations, Regular holidays, from week long breaks to overnight stays,
short breaks and exciting getaways are just some of the benefits enjoyed by Club Wyndham Members.
Royale Timeshare Resales is an experienced licensed resale operator; our prices are very competitive. Feel free to get in touch with us if you have any questions, it doesn't cost anything to have a chat and we would be more than happy to assist you with any enquiries.
| ANNUAL CREDITS | ANNIVERSARY | PRICE - AUD | OUR REFERENCE |
| --- | --- | --- | --- |
| 20,000 | February | $8,800 | 11769 |
| 20,000 | November | $8,800 | 12092 |
| 17,000 | October | $7,750 | 12089 |
| 14,000 | September | $6,800 | 11989 |
| 14,000 | June | $6,200 | 12087 |
| 10,000 | May | $4,800 | 11972 |
| 8,000 | August | $3,600 | 11921 |
| 7,000 | July | $3,000 | 11567 |
| 6,000 | March | $2,800 | 12018 SOLD |
| 6,000 | April | $2,800 | 11819 SOLD |